Grand View Builders is a family business and we have many moms who work in our office, including Michelle Jungers, our vice president of construction, who has the joy and privilege of working along side her three children! With Mother's Day quickly approaching, we want to make sure your mom is treated to a fantastic day, so we're sharing some tips.
If there is something all moms love, it's spending quality time with their family, so consider treating mom and the rest of the family to a mini Staycation! She is sure to love exploring her community with her loved ones. Gallivanting around town can be exhausting, so we've put together a few other ideas that will make celebrating mom in the comfort of your own home just as exciting, while being much more relaxing.
What mom doesn't love a break from cooking duties? Kick mom out of the kitchen on her special day and whip up a tasty meal to enjoy all together. If you know your mom's favorite dish, consider preparing that for her special day. Breakfast in bed is always a great idea, even it means just making the perfect cup of coffee or preparing her a bowl of cereal.  We assure you the gesture will be much appreciated.
If you want to impress her with a full course meal, try some of these savory recipes.  Avocado pasta, lemon garlic tilapia and buffalo chicken paninis are some of our latest favorite recipes.  For dessert try lavender pound cake, lemon tea cakes or white chocolate mousse pie.  Be sure to clean up the kitchen and do the dishes (so mom doesn't have to!) after you've cooked your delicious meal.
Once your mom is done devouring your homemade meal, transform your house into a spa for a relaxing pampering session. Consider picking up some bubble bath, a facemask and some nail polish as a small gift to enjoy at home. Some quiet time to relax is a gift every mother would cherish.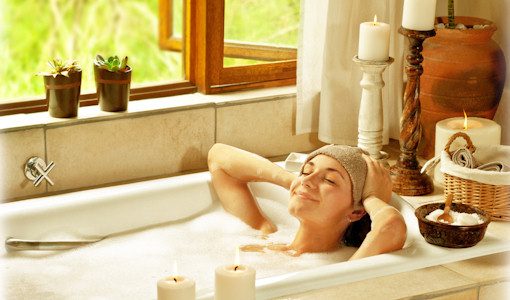 Additionally, spending time outside while the weather is beautiful makes for great quality time. This is a perfect time to relax by the pool with mom and enjoy the luxury amenities and features many of our communities include. If your mom has a green thumb, gardening would also be a creative activity for the whole family to participate in.  Consider taking your mom to a local garden center to pick out her favorite flowers and shrubs.  When you get home, the whole family can help plant the beautiful plants she picked out to give your house some extra curbside appeal.
We hope these ideas ensure you enjoy spending some quality time with your mom. To all the moms out there, Happy Mother's Day from the Grand View Builders team!